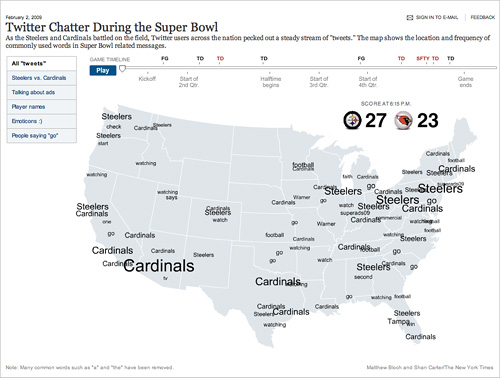 Twitter Chatter During the Super Bowl
スーパーボウルの最中にTwitterでどんな言葉が交わされたかを視覚化したNew York Timesのコンテンツ。
時間軸にそって再生できたり地域ごとの詳細も見れる。CardinalsとSteelersのチーム名の発言数の比較やどの選手の名前が発言されたかを見ることもでき、そこから点を取ったチームや活躍した選手を知ることができる。最終クオーター残り3分を切ってLarry Fitzgerald のタッチダウンでCardinalsが逆転した時はFitzgerald一色になっている。その後Steelersが再逆転した時は結構ばらけている結果も面白い。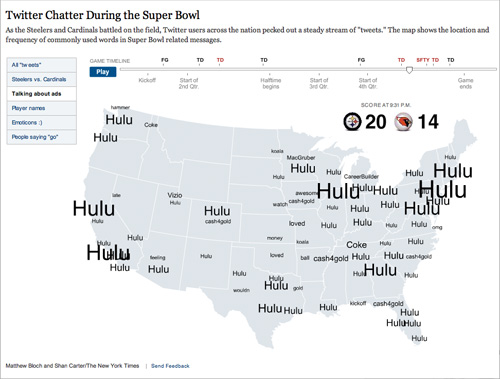 広告についてのつぶやきだけを見ることもできる。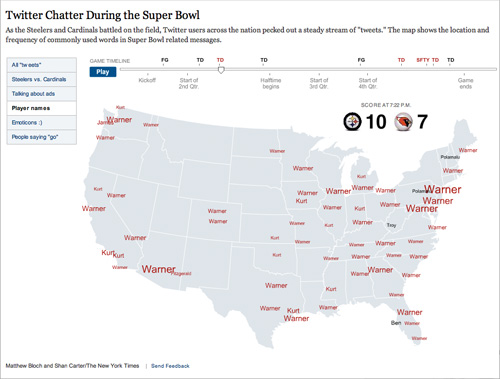 選手名の場合、タッチダウンのあととかビッグプレイのあとだと試合を見ていなくても何が起こったかわかるくらい明確。
3 Comments
Taking the oviverew, this post is first class

I teach university-level non-majors science and made animations for my students a few years ago…photosynthesis, ATP cycle, structure of water, and others. They have been excellent teaching tools and hundreds of thousands of viewers have watched them. The next step is to make animated apps that people can use. Let's get in touch to get the ball rolling!Sam

Tip top stuff. I'll expect more now.
http://unodos.jp/wp/2009/02/03/twitter-chatter-during-the-super-bowl/trackback/
Post a Comment